Attic Youth Cafe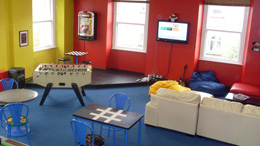 The Foroige Attic Youth Cafe was established in September 2006. The Cafe is open to all young people aged 12 -18 years of age and is a fun environment for the young community of Longford town to socialise and meet new people.
The Cafe is open daily at lunch times 12:30am – 2pm and also at weekends for structured events such as band nights and discos.
The Attic Youth Cafe runs the very successful Longford Youth Factor each January which attracts huge crowds of young people on a weekly basis and gives young people a forum to showcase and develop their talents to live audience.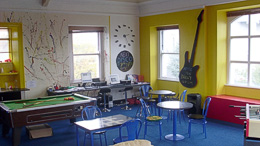 The Attic Youth Cafe is run by dedicated volunteers who give their spare time to assist Foróige in the running of the cafe. The Cafe also has a full time drug and alcohol education and prevention worker who run various programmes from the Attic to prevent young people miss using drugs and alcohol.
The Attic Youth Cafe has grown from strength to strength over the years and this year the young people of the Attic won the National Citizenship Award 2009 for outstanding citizenship in their local community.