Facilities
If you are looking for a venue to accommodate your business, community or leisure activity, you need look no further. The Temperance Hall in the heart of Longford has the answer you are looking for, whether it be for large or small groups.
Why not come along and view the facilities at our very central location; you might be surprised by what we have to offer and our very competitive rates.
Discounted rates are available to smaller non funded groups.
Access: please advise of any special requirements. Facilities include adapted toilet for wheelchair access.
The following are the rooms and their capacities:
| Room | Seating |
| --- | --- |
| Main Hall | 300 |
| Civic Suite | 50 |
| Balcony | 25 |
| Room 1 | 15 |
The Main Hall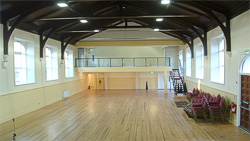 Our Main hall has a seating capacity of 300; a stage complete with sound and lighting systems with an extensive backroom area. In the past we have hosted St. Mel's Musical Society, Tops of the Town, Longford Youth Factor, School productions, Fleadh Ceoil's, Auctions, Business Seminars, Workshops, Public meetings, Bingo, Craft Fairs etc.
Seating: 300
The Civic Suite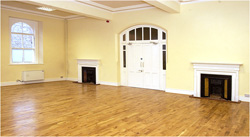 The Civic Suite is our showpiece period room with it's original fireplaces, cornices and a commanding view of the town. In the shadow of St. Mel's Cathedral is the ideal venue for small meetings, informal gatherings such as art exhibitions, poetry readings, book launches, civic receptions etc. Current usage includes local Bridge club, Camera Club, Yoga classes, Computer classes.
Seating: 50
Balcony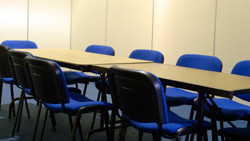 The Balcony area has a seating capacity of 25 and is a multi purpose space which can add to the capacity of the Main Hall or can be used as a room in its' own right. With its moveable wall it has many uses and has recently had its electrical installation upgraded to facilitate all IT requirements. The Balcony area can also be used as a reception area for functions in the Main Hall.
Seating: 25
Room 1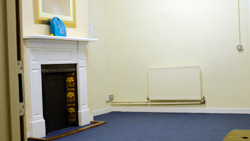 Located at the rear of the stage, Room 1 has a private entrance and is ideal for small meetings such as after school classes, homework clubs, resident associations, counselling and interviews.
Seating: 15
All rooms have close access to kitchen and toilet facilities.